Interview



Handle:
Elric Ex-TRiAD (the old one,c64) ex-AGILE (founder on BOTH c64 & AMIGA) still member of QUARTEX AMIGA/CONSOLE.

How did you come up with your alias ?
Actually I came up with this handle since I happened to like the books written by MICHAEL MOORCOCK. Read them to find out why i got stuck with it.

City / Country:
Interstellar galaxy? Nah, the CAPITOLIUM of SWEDEN, STOCKHOLM.

Born year:
As a small matter of fact the same year as the most of the guys that happened to be in TRiAD: 1970. Some would say a golden year of Scene-folk.

What was your first computer, and when did you get it?
Depends upon if you count the Atari 2600 a computer? Still my first one was the start for most: C64.

How did you get into the scene and what groups have you been a member of ?
How did I get into the scene? Jeez, 10 years of scene activity (disactivity?) and you expect me to know still? Well, I would say that i happened to come around my friends houses and found the c64 lying around and I was hooked. Still what compelled me to start for the scene was the allure of faster wares and getting a place of honour, to get achievements where none had done in my own parts before.

1985 was that year, in 1986 I stumbled onto the groups. My first real group was TTW,Technocrats Worldwide (c64,1986), afterwards a ran into the working machine of TRiAD(1987). Some personal chemistry wasn't at it's best there so I had to leave the scene to contemplate my options. Alas I came upon the idea of starting out my own group, AGiLE (1988) which ran pretty good until my final demise when I got busted in May 1989. Later that year I got my first AMIGA and got my first HST-modem thanks to our beloved ZIKE-BIKE and got in touch with the guys working onto the scene by that time on a VERY much more different format (still I owe CONQ&ZIKE in my first days onto it.). In 1990 AGiLE AMIGA was going on with only a few members at first but went good the first year until my army service got in the way in 1991-92 and fucked up alot for the group in periods. Still I realised after sometime in the scene that money was the prime object and was getting more absurder with the years so i made the final decision and let AGILE merge into QUARTEX in late 1993 and got a huge support from the old group. QUARTEX are still around and probably will never die as long as the old people of QUARTEX stay around. QUARTEX CONSOLE is one matter ive been doing since until 1995 when I had to switch over to pc which im currently just meddling with.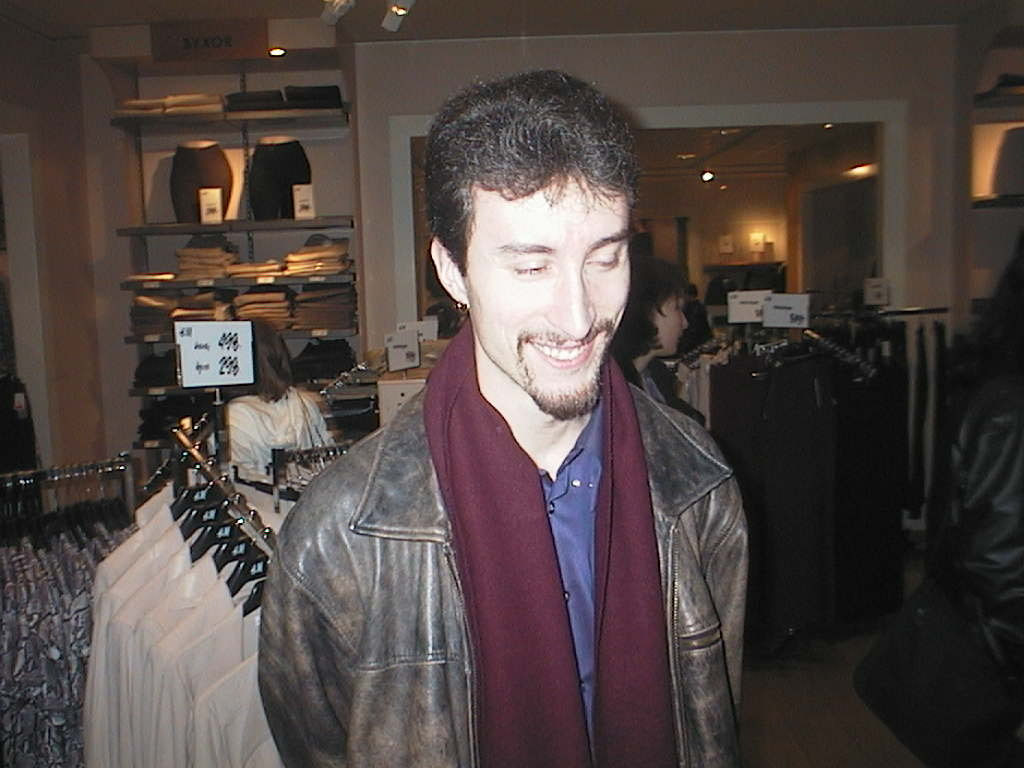 What was the proudest moment in your career ?
Probably the day when AGILE was born in 1988 onto c64.It was so funny to see those TRiAD-guys faces literally.Something I still remember is also the day when AGILE AMYwas born(CONQ&ZIKE, UNDIE thanx!)

For what specific reason(s) do you think that you are remembered ?
Hmm..tough question...Swedes onto c64 remember as a pain in the neck(alas for the futility of youth) and aswell mybust. Besides that,AGILE on BOTH C64 and AMIGA.(hmm...why not CONSOLE and PC, ELRiC?)Some people do favour me and some do not, still I've atonedfor it and shook hands.

What would you like to be remembered for ?
Atleast for being the founder of AGILE C64 & AMIGA.

What made you stop the scene activity ? (and do you remember when?)
Quit or to quit? well,as SCRATCH/TRiANGLE said to me: "it's like a drug and drug addicts can't quit, basically we're stuck with it."
I believe that most of us are still somewhat or have still some kind of connection to it in a larger/lesser way. Like many people on the scene there have been few ways to actually quit: BUSTS,GIRLFRIENDS. I've suffered the same fate as most else. We are in IRC-REAL LIFE, dudes!

Thinking back on the good old days, is there anything you regret?
Well, as I got older and realised how many people I made angry onto the C64,i solemnly apologise for my bad behaviour.Still it was a nice time with many peoples that i've never seen and i wish i did and still do (them damn adresses, ZIKE!). As IXION said to me last time i spoke to him : "Save the time you have now or you will regret it later that you didnt see the people around the globe" Alas,IXION you were right...

Onto AMIGA...jeez many things.. I wish that I hadnt trusted some people with running AGILE while I were away for the armyservice. One thing that buggers me still is SPIDEY. How the hell should I know that guy would become the first real money-made supplier in birmingham(TUTOFF/CRYSTAL). Still Crystal was the one that destroyed the real scene as it were then SKID ROW totally anihilated it with FFC(who doesn't remember Fast Fucked-up Crax?).

AGILE became more dependent upon insides & were good at it. I could go on forever with this list of people I wanted to have around but never quite made it due to lameness(that I later saw as eliteness..sigh!) or of money...money is all the scene did come up to..besides,i wish my phonebills never got so high as they did,of all you that know me well sure would say that would be the first of all. Besides I've had so many nice conversations with alot of people that I find it ALMOST worth it all...

What was your favorite
GAME(S)
C64: BOMBJACK & DELTA DEFINATELY!
AMIGA: maybe SUPER CARS...All Sierra GAMES...lucas games...jeez...

DEMO(S)
C64: THINK TWICE from THE JUDGES.
AMIGA: ALL THE PHENOMENA DEMOS,SILENTS.

PROGRAMMER(S) (OR PROGRAMMING TEAM(S))
C64: THE JUDGES, 1001 CREW, MATCHAM, IAN & MIC.
AMIGA: SILENTS, PHENOMENA

CRACKER(S) (OR CRACKING GROUP(S))
C64: Mr Z & JANITOR(TRIAD),DYNAMIC DUO, WEETABIX, CCS, IKARI, AGILE, FAIRLIGHT, CENSOR, MZP & TLC.

AMIGA: IL SCURO & CCS/DEFJAM&CCS, WEETABIX, CONQUEROR/C&Z, SABBATH/AGILE, RINGO STARR/CLASSIC, FAIRLIGHT, ROB/QUARTEX & THE REST IN QTX AND ALL OTHERS I FORGOT.

COMPOSER(S)
C64: DANKO, JEROEN TEL & TMC/MON, ROB HUBBARD.
AMIGA: MON, FIREFOX & DANKO, WHITTAKER, ZIPHOID.

BEST COMPOSED TRACK(S)
C64: All ROBs, MON...
AMIGA: Too MANY JEEZ!

EVENT(S) (E.G. COPYPARTY) and MEMORY(S)
C64: THE BEST EVER DANISH GOLD PARTY(when somebody was having fun with the furniture).
SLAGELSE in -88..ahh to see STRIDER soo PISSDRUNK...
The War Between WCC & TRIAD.
TELEPHONE CONFERENCES AND AT&T.

AMIGA: The Party in DK when STRIDER got Zelnik to stand up and say "who's lame? ZELNIK IS LAME!" I JUST LOVE THAT TAPE! Ahh..the wars with ZELNIK...and MASCOT...Jeez.. QUARTEX & PARANOIMIA WAR. AT&T (where did the confs go?)

DRINK ?
A SLOW SCREW UP THE WALL?
SEX ON THE BEACH?
PLAIN ORGASM?
BEER! BEER!(MEEERA MJÖÖÖD!)

What are you doing nowadays ?
Actually besides being around the computers some now and then and getting laid and partying? WORKIN' AND NOT WITH COMPUTERS...

What are you doing on your spare time?
Partying, getting laid and calling around on the NET and the boards now and then. Whats the rush with fast wares? having a IRC-REAL LIFE.

Is there anything you'd like to say to the public (read: admires)
I hope the scene will eventually go back to where it started in friendship,but that is quite futile to hope...since money makes the world go 'round.

What is the meaning of life?
NOT COMPUTERS ANYHOW! Computers is a means of communication & enjoyments and usefullness.WHY waste your life on a tin-can that can't giveyou ANYTHING in return? Cherish the time you haveon it though it'll bring some good memories, lovingis much more harder than some would think.Having girlfriends has never been easy but stillthey give some in return...
Meaning of life besides that? Procreation some wouldsay, but it always comes to that anyhow. Eventually even the most foolhardy hacker will noticethere are other values in life....